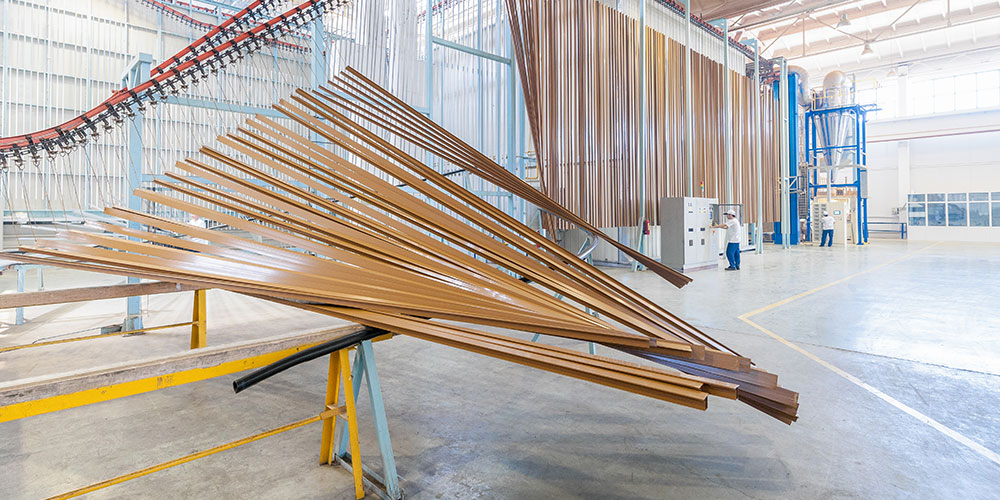 Aluminium is a material very often used for industrial and household purposes. The need to improve performance of aluminium often brings to consideration of the available treatment methods of this material as the options are abundant in this regard. One of them is powder coating of aluminium, which does not pollute the environment with toxic substances and ensures a truly great result. Powder coating is often used for coating door and window façade profiles, etc. The advantage of this method is the possibility to choose from of a wide range of aluminium colours, which guarantees a truly great result.
Key advantages of powder coating
Powder coating of aluminium has various advantages: this method of aluminium surface treatment is environmentally-friendly and inexpensive while the achieved results could be enjoyed for a really long time. Last but not least advantage is that powder coating guarantees a great aesthetic appearance of products, which lasts for years.
What is the process of powder coating of aluminium?
It is a rather complex process often presenting various challenges. One of them is proper preparation of aluminium. First of all, the aluminium surface is degreased by using a high-temperature solution. The next step following degreasing is washing the surface and removal of any oxides from it. When the aluminium surface becomes completely clean, it is usually primed, however, this step is not always necessary. The final step is powder coating of aluminium; a brush or a roller may be used for this purpose, however, the best result is achieved by way of spraying. This method of surface coating enables prevention of various irregularities and facilitates coating hard-to-reach areas. Even though the task of painting aluminium is taken on independently, trusting this job to professionals ensures a much smoother process and the result will surely bring joy.
It is important to choose the right paint
The results always depend on the choice of the paint, so this should receive proper attention. Customers may research which of the aluminium paint manufacturers received the best customer feedback, to assess the available colour palette, etc. Any advice from professionals in sale of aluminium paint is likely to facilitate the decision making process.